Welcome to Richardson Septic Tank Pumping, Installation, & Repairs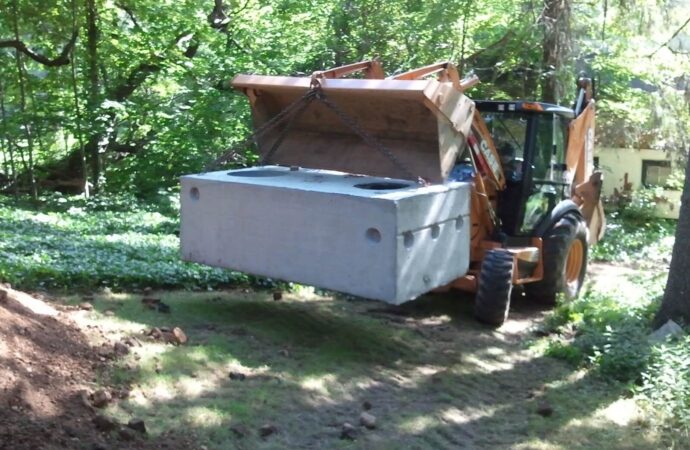 Even though we have so many companies that offer septic solutions in Richardson, you have to be extremely careful when making a decision. The reason is that not all of them have the power to exceed your expectations. You need a brand that will work on your project with a high level of diligence.
Richardson Septic Tank Pumping, Installation, & Repairs stands out as the best company in the region. We offer a broad range of septic solutions including installation, repairs, and replacements. The company professionals will work on your project regardless of the size. We serve both commercial and residential customers in Richardson.
The first thing that we do when we arrive on the site is to analyze your needs. It helps us to make sure that we are providing a perfect solution for your home or office. You cannot live or work from a place that has a non-functional septic system. Therefore, we pay close attention to the efficiency in operations when designing your septic system. Our brand works towards giving you the most reliable septic system in place. You can be sure that there will be nothing like system failures if you are relying on our septic professionals in Richardson.
The other thing that sets us apart in the market is the quality of products that we use. If you choose substandard products, you can be sure that you will be repairing your septic system every now and then. As a result, we use high-quality products that will stand the test of time. Even though some of these products tend to cost so much, you will get your value in return from the reliable utility that you get.
You end up saving so much in terms of maintenance and repairs in the long run. Therefore, it makes a lot of economic sense to invest in high-quality septic products. Our professionals know the brands that will work best on your septic system. The team will pick these high-quality products and use them to build your septic system. You can be sure of having the most reliable septic solution that you can think of in Richardson.
The quality of staff working on your septic system also matters a lot if you aim towards registering high-quality results. You cannot employ unskilled laborers and expect to register exemplary results. All our technicians are graduates from the leading training institutions in the region. The company does not use anyone who is not sure of what he is doing to work on your project. The reason is that we understand your project is not a candidate of guesswork.
We have to make sure that the people who are working on your project have the right level of expertise. With this in mind, all our contractors have the right level of training and experience. It means that your project is in the right hands wants you to entrust it to us. The team will choose the right design and implement it correctly. The level of skills that our company possesses will guarantee you services that will surely exceed your expectations. Therefore, don't hesitate to come to us when you need any form of septic solutions in Richardson.
The other thing that gives us a competitive advantage in the market is the quality of the equipment that we use. There is no way a company will use old machinery and expect to deliver exemplary results. It explains why our management team invests heavily in modern technology. These tools help us to deliver high-quality results within the shortest period. It is what we call efficiency when it comes to service delivery. We are able to deliver high-quality services but within the shortest time possible.
Apart from helping you to save on time, the use of modern technology will also help you save money. The reason is that using modern machinery will help us reduce operational costs. This benefit helps both our company and customers alike. You will be able to enjoy high-quality services at the most competitive rates in the market. The underlying factor here is that you are going to get the value for your money. It is something that everyone is looking for when making any form of investment including installing septic systems.
We offer a broad range of services to our customers. To give you more confidence, the company has the best warranty conditions in the market. It tells you that we have a high level of confidence in our services. We are sure that the kind of work that we do will not fail. If you have an issue that falls within our warranty conditions, you can be sure that we will address it at no cost. We are sincere in all our dealings and will not lie to you whatsoever.
There is a difference between saying and doing. You don't want a septic company that will give you so many promises but ends up under-delivering. Our company is very realistic when it comes to making promises. Customers will always know what to expect before we embark on the work. Therefore, you cannot expect any form of disappointment when you hire our services.
The company ranks top in the region when it comes to customer service. Our operations are transparent and we charge fair prices to our customers. Those who use our services leave behind remarkable comments and high ratings. It is a clear indication that you will get top-end services when you hire our brand.
The company has all that it takes to deliver these solutions regardless of the number of anticipates users. The good thing is that we will charge you reasonably for all these services. Here is a summary of the services that we offer to the residents of Richardson;
If you live in the region of Richardson and you are looking for the best septic system services, you need to come to us. We, the Richardson TX Septic Tank Pumping, Installation, & Repairs, are the best company for this process. We have the required experience to offer the best services in this area.
We service all of Texas. Below is a list of cities most of our services are at on a daily basis: